Lessons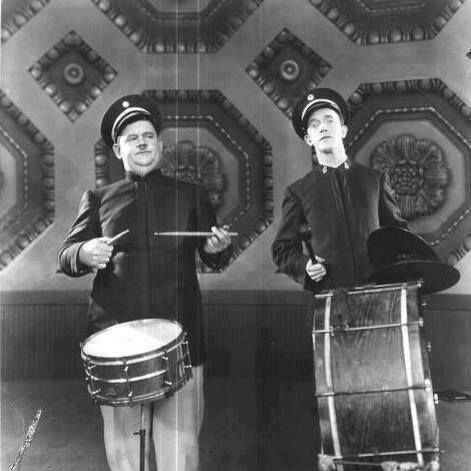 (Italiano)
Insegno l'arte della batteria e delle le percussioni a bambini e adulti da più di 20 anni, sia nelle scuole che privatamente.
Durante i corsi aiuto i miei studenti a diventare dei batteristi, ma soprattutto, dei musicisti migliori partendo dalle basi come una corretta postura, la tecnica delle mani, i rudimenti, l'indipendenza degli arti, etc...per poi passare a temi come i poli ritmi, i tempi composti, l'approccio melodico su piatti e tamburi e tanto altro. Inoltre insegno varie "tecniche estese" che ho ideato personalmente e/o imparato da Maestri come Roberto Dani, Rakalam Bob Moses, Joey Baron ed altri, per ampliare lo spettro sonoro e stimolare la creatività.
Avendo suonato molti stili musicali diversi e con musicisti di varie estrazioni (dal punk al jazz, l'afro cubano, l'improvvisazione libera, l'afro beat, il funk di New Orleans, solo per citarne alcuni) ho le competenze per aiutare chi studia con me a suonare meglio il genere che più gli piace.
Negli ultimi tempi ho incominciato ad incorporare nei miei programmi varie percussioni del mondo come le congas, i bonghi e diversi tamburi a cornice come la kanjira indiana e il tamburello tradizionale italiano usato per la Pizzica e la Tarantella. Questo approccio aiuta lo studente ad imparare in maniera più chiara gli antichi ritmi e "claves" che tutt'oggi vengono usati e che sono facilmente applicabili sulla batteria e molto efficaci.
Conduco inoltre dei seminari di "percussioni trovate" che chiamo TUTTO SUONA, nel quale insegno ai/alle partecipanti una serie di figure ritmiche che successivamente vengono eseguite con degli oggetti di uso comune: dai lavandini alle botti del vino, tronchi di legno, cerchi delle ruote, pentole, padelle e tanto altro. Questo tipo di approccio apre ai partecipanti un nuovo mondo sonoro e li invita a creare Musica con quello che hanno a portata di mano, nel rispetto dell'ambiente, rendendoli consapevoli dell'importanza non tanto della strumentazione ma di colui/colei che la suona.
L'altro seminario che ho preparato durante il lock down RADICI FLESSIBILI invece tratta temi come l'Afrobeat di Tony Allen, la peculiare musica Maloya delle Isole della Reunion, le quintine e le settimine, le tecniche estese e come bonus  ho creato una lista di suggerimenti e trucchi che ho imparato in più di 30 anni fatti di concerti, tour e registrazioni in giro per il mondo. Alcuni dei temi sono:
- "tecniche di sopravvivenza" in tour
- come gestire ansia e stress prima di un concerto o durante un'audizione 
- come accordare la batteria in e in contesti musicali e ambienti diversi
- trucchi "fai da te" per la manutenzione della batteria e come farla suonare bene con un budget minimo 
(English)
I've been teaching the art of playing drums and percussion to kids and adults for more than 20 years both in Music Schools and privately.
During courses I help my students be better drummers starting from the basics like improving their posture, hand technique, rudiments, independence, etc...to then focus on polyrhythms, odd meters and the melodic approach on cymbals and drums. I also share many different "extended techniques" that I came up with and/or learned from masters like Roberto Dani, Rakalam Bob Moses, Joey Baron and others to widen their sonic spectrum and stimulate creativity. Having played many different styles of music (from punk to jazz, afro cuban, free improvisation, afro beat, New Orleans funk to name a few) allows me to help students improve their playing in whatever genre they prefer to focus on.
In the last few years I've been incorporating into my programs various percussion instruments from around the world, such as congas, bongos and different frame drums like the indian Kanjira and Tamburello (the traditional Italian frame drum used for "Pizzica'', and "Tarantella"). This approach helps the student to learn in a clearer way the ancient rhythms and claves that are still being played today and that can be easily applied on the drum set.
I also conduct a seminar for "found percussion" called TUTTO SUONA where I teach the participants a series of rhythmic patterns to be played on objects from everyday life: from sinks, to wine barrels, wood logs, wheel rims, pots & pans and much more. This kind of approach opens up a whole new sonic world and forces the player to make music with what they have at reach, making them aware that it's not so much the gear that counts, but the one who is playing it. This seminar encourages people to connect more with nature and sound, and leads one to become more environmentally-responsible and engaged.  
The other seminar I lead is called RADICI FLESSIBILI in wich I touch upon Tony Allen's Afrobeats, the peculiar music of the Reunion Island, Maloya, quintuplets and odd meters, extended techniques and as a bonus I created a list of tips and tricks that learned over 30 years of playing shows, touring and recording around the world.  Some of the topics are:  
- on the road survival tactics 
- how to manage stress and anxiety before a gig and/or an auditions
- how to tune the drums in different rooms and musical situations
- DIY tips to maintain your drums and make them sound good no matter what your budget is.